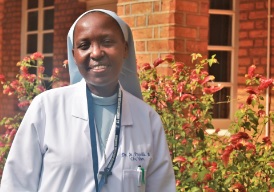 Dr. Sr. Priscilla Busingye: THE FIRST AFRICAN AND FIRST WOMAN TO RECEIVE THE L'CHAIM PRIZE
The Press Release 19th November 2020


First African, woman to receive L'Chaim Prize for providing life-changing care in rural Uganda
"Knowing that I meet God in every patient gives me great joy."
– Dr. Priscilla Busingye, 2020 L'Chaim Prize recipient
DELAND, Fla. — African Mission Healthcare (AMH) is pleased to announce that the prestigious AMH Gerson L'Chaim  ("To Life") Prize for Outstanding Christian Medical Missionary Service has been awarded to Dr. Sr. Priscilla Busingye, OB-GYN and a member of the Banyatereza Sisters of Uganda.
Dr. Busingye is the first woman and African to receive the award. The Prize, including a $500,000 award in support of her medical work, is the largest dedicated to direct patient care. AMH Co-Founder and Prize sponsor Mark Gerson observed, "Dr. Busingye's life and work are truly amazing. She epitomizes everything that a compassionate, community-minded person could possibly aspire to, regardless of their faith tradition. She 'loves the stranger' every day in a genuine and tangible manner.
It is a joy for my wife, Erica, and me, as Jews, to celebrate the work of this wonderful Christian physician." Dr. Priscilla was born and raised in an impoverished Ugandan village with no attending nurse or doctor, no medical equipment and no electricity. The training and support she later received from the Sisters inspired her to devote her life to serving the poor. She is now one of very few OB-GYN specialists in her region and works tirelessly on behalf of her community's women and children.
…….